Rear Axle Bumper

FORD Rear Axle Bumper
Rear axle rubber bumper spring, rear with axle. 1 in the center and 2 on each side (5 per car). Except Station Wagon, Sedan Delivery and Ranchero. 1959-1960 Thunderbird (For r...
For 1957 1958 1959 Ford Cars
---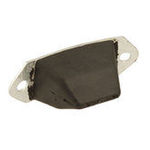 FORD Bumper Rubber Bonded To Metal-Rear Axle Retractable Only
Rear axle bumper, Rubber bonded to metal, Retractable only.
For 1957 1958 Ford Cars