Hose Clamp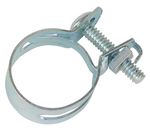 FORD Clamp - 1-1/8" By-Pass Heater Hose
Hose Clamp By-pass heater hose clamp, 1-1/8" to 1-1/2".
For All Ford Cars
---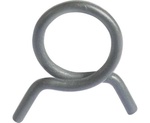 FORD Hose Clamp - Scissor Type Clamp For Any 1" Hose
Designed for any 1" hose, this scissors type clamp can be used for the breather hose between the valve cover and air cleaner. 1-1/4" post or tower type clamp.
For 1963 1964 Ford Cars
---

FORD Heater Hose Clamp - 5/8" Diam.
'49-59 Passenger -heater water hose -also used with air conditioner; '56-59 Passenger - power brake booster to manifold hose; '58-59 Retractable -fuel tank vent hose; '59 Pass...
For All Ford Cars