Hood Emblem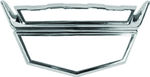 FORD Hood Emblem - Die Cast Chrome Bezel - Galaxie
Hood emblem die cast chrome bezel, Galaxie
For 1960 Ford Cars
---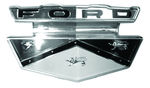 FORD Ford Emblem Hood Insert Front- Plastic - All Models Including Fairlane & Fairlane 500
Hood insert plastic "Ford" emblem, front. All models and Ford Fairlane and Fairlane "500". Crest is plastic, Gold background with black letters. Ford Licen...
For 1959 Ford Cars
---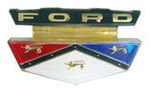 FORD Hood Ford Front Emblem, Galaxie - Plastic
"Ford" Galaxie hood emblem, Black background with gold letters, front plastic. Ford Licensed and Made in the USA.
For 1960 Ford Cars
---

FORD Hood Emblem Front Ford Crest - Plastic
Front hood emblem, Plastic Ford Crest.
For 1962 Ford Cars