Hood Lip Moulding

FORD Hood Lip Moulding - Aluminum Bright
The hood moulding for the 1964 Galaxie or Full Size Ford and is one of the most sought after parts for this year car. Die stamped in aluminum as original with a factory "...
For 1964 Ford Cars
---

FORD Aluminum Hood Lip Moulding With Clips
Die stamped aluminum hood lip. Exact Reproduction of Hood Lid Moulding, includes attaching hardware.
For 1961 Ford Cars
---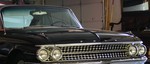 FORD Hood Lip Moulding - Aluminum Die Stamped
Hood Lip Moulding -Aluminum Die Stamped Aluminum. Polished and clear anodized to prevent corrosion.
For 1961 Ford Cars