Bumper Accessory Guard -Rubber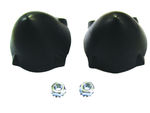 FORD Accessory Guard Rubber Bumper
Quality reproduction Ford accessory guard bumper piece. Fits front or rear bumper (rubber). Requires 2. Made in the USA.
For 1959 1960 1961 1962 1963 1964 Ford Cars
Bumper Wing Guard Template
FORD Template For Mounting Front Bumper Wing Guard
Template for installing front bumper wing guard.
For 1957 Ford Cars
Bumper Guard
C1AZ17996A& 7A
---
$629.99 Kit

FORD Bumper Guards With The Rubber Bumpers - Front Galaxie
These Ford front bumper guards are used on your Galaxie model full size cars. These are the exact reproduction of the originals. Triple plated chrome and with the rubber bumpe...
For 1963 Ford Cars