303 Aerospace Protectant
"303" Aerospace Protectant "SPF 40", 1 Gallon Refill
This is a 1 gallon refill jug of 303 Aerospace Protectant. 303 Aerospace Protectant keeps UV-sensitive materials "like new" year after year. It really is like &quot... For All Cars and Trucks
Protectant -Interior/Exterior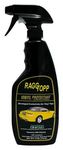 FORD Raggtopp Convertible Top Vinyl Protectant- Interior/ Exterior Vinyl - 16 Oz Bottle
RaggTopp Convertible Top Vinyl Protectant. For interior/exterior vinyl (16 oz. bottle). Strongest Professional Strength Vinyl Protectant on the Market Today. Exclusively Formu... For All Ford Cars
---

FORD Convertible Top Protectant For Fabric Tops Only, 16 Oz
Protectants for fabric tops only, 16 oz. spray can. OEM Patented Formula Protects By Keeping Out the Elements of Nature and Man. Renews and Extends the Life of Fabric Topping.... For All Ford Cars
Water Blade
Polishing Ball

Mothers Powerball -Mini Detail Polishing Ball
The mini ball with a 10 inch extension is perfect for those hard to reach areas. Takes your intricate, tedious polishing jobs and makes them much easier. Use with your favorit... For All Cars and Trucks
---
Mothers Powerball -Detail Polishing Ball
Use with your favorite polishing compound or liquid on a drill or screw gun to revitalize metal, plastic and more. Measures 6 inches in diameter. For All Cars and Trucks
Tire Care
WHITEWIPE
---

Tire Wipes - White Wall 35 Wipes Per Container, 7" X 9"
These are white wall tire wipes Now you can quickly wipe your tires off daily and enjoy that just cleaned look everyday. Removes brake dust and road grime. One simple step, wi... For All Cars and Trucks
Vinyl Protectant

"303" Aerospace Protectant 16 Oz. Trigger Sprayer
This is a 16 ounce trigger spray bottle of 303 Aerospace Protectant. 303 Aerospace Protectant keeps UV-sensitive materials "like new" year after year. It really is ... For All Cars and Trucks
Electric Motor Cleaner

FORD Electric Motor Cleaner - Instant Penetration Without Insulation Damage, For Armatures & Field Coil Assy.
19 oz., Cleaner, degreaser: fast, thorough cleaning for non-sensitive electrical equipment. Dissolves grease, oil, dirt and wax, leaves no residue, non-flammable. For All Ford Cars